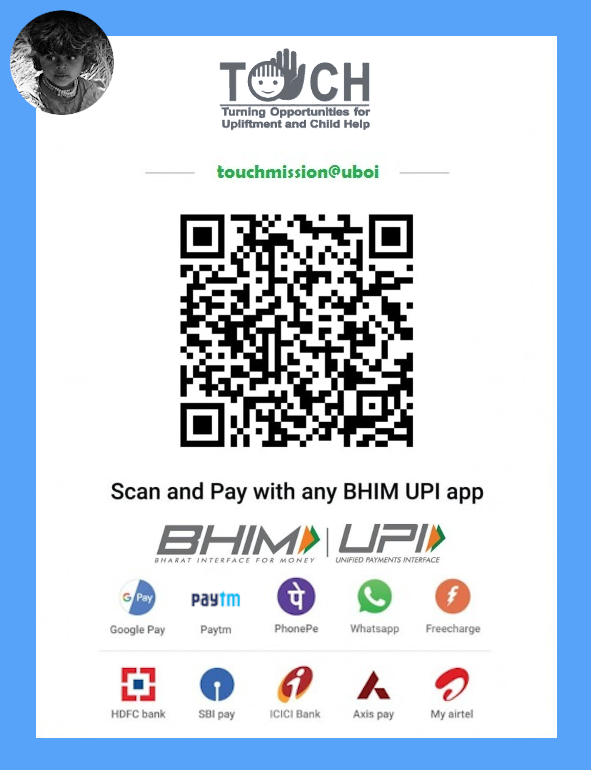 or, Check
---
Foreign Funds (Outside of India)
Account Holder : TOUCH – Turning Opportunities for Upliftment and Child Help
FCRA A/c Number : 912010045831141
BIC/Swift Code : UTIB0001699
Beneficary Bank : AXIS Bank
Branch : Saibaba Nagar, Borivali west
Transfers Within India
A/c Name : TOUCH
Bank name : State Bank of India
A/c Number : 33487700355
IFSC Code : SBIN0006441
Branch : Vazira Naka, Borivali west
MIDAS TOUCH –  Educational Child Sponsorship.
It takes Rs 5000/- to ensure education of the underprivileged child annually.
You can make a onetime sponsorship of Rs 50,000/- for his complete education. You get all the details of the child, his progress report and his letters to you.
LIVELIHOOD SPONSORSHIP – Rs 30,000 per child annually
We are guardians of the balgram children and Asha sadan children.
Street children are pursuing their education in a residential facility at balgram.
Orphans above 18 years without family are under our guardianship at Asha sadan in Mumbai.
By sponsoring livelihood at the balgram and Asha sadan  you are safeguarding their future.
Philantrophy Partners

–

PWE, BCPT , J & J , Cactus Communications, JKSP Samarpan foundation, Gulab Baba Charitable Trust, GIC, Excell Industries.